Woman charged over calls to inmate before alleged escape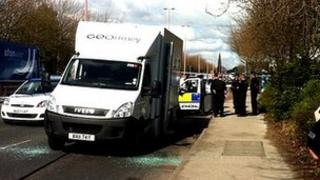 A woman has been charged with calling a prisoner on his illegal mobile phone in the days before before two inmates were allegedly sprung from a prison van.
Two men allegedly escaped custody in Salford on 30 April as the van made its way to court from a Merseyside jail.
Sarah McCabe, 33, of New Cross Street, Salford, was arrested as part of the investigation into that incident.
She is due to appear before Manchester Magistrates' Court on 22 August.
A police spokesman said the charge related "to calls made and messages sent to an illegally possessed mobile telephone, which was capable of encouraging or assisting the commission of an either way offence contrary to the Prison Act 1952".
He said the alleged offences took place between 22 March and 23 April.
Ryan McDonald and Stevie McMullan have both been charged with escaping lawful custody over the alleged van incident.