Bredbury fire: Major blaze at Stockport recycling plant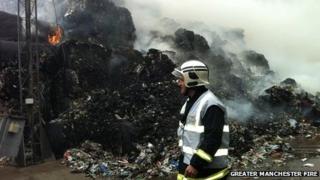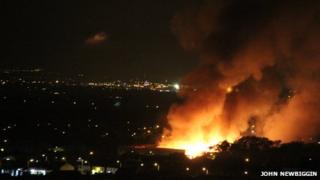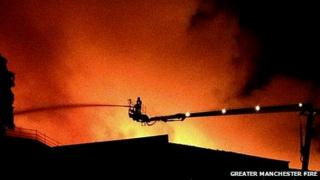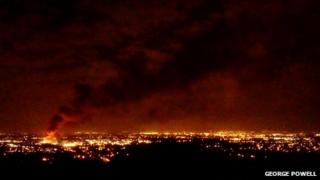 About 50 firefighters are tackling a huge fire at a Greater Manchester recycling plant.
The blaze started at about 21:00 BST on Tuesday at the recycling centre in Bredbury in Stockport, next to a Morrisons supermarket.
A fire service spokesman said the fire involved large bales containing recyclable materials and was spread over a 100m by 100m area.
It caused congestion on the M60 due to its proximity to the motorway.
Firefighters at Bredbury Park Industrial Estate, Stockport Road West, said the fire had been "contained", but they were expecting to remain on the scene for "several days".
Roads closed
Sean Booth, from the fire service, said: "There's a smoke plume that's going quite high up in the air and then moving across over to Tameside.
"What I would say to anyone who is travelling on the motorway is to take care when you are in the area."
Several roads were closed, including Stockport Road West, Crookhilley Way and Old Moor Road and some bus services in the area were diverted.
Businesses on the estate are open as usual but access was limited.
'Rapidly developing fire'
Mr Booth added: "The workforce were on site when it started, they had just gone for a break.
"When the fire service arrived they met a rapidly developing fire.
"It built up very quickly, and pretty much involved the whole site. Stacks of recycled waste about 5m high are involved in the fire."
As a precaution, people living nearby were advised to close their windows.
The effect of the fire had been reported as far away as Leeds, where a council spokesman said fire service investigations into a "smell of burning plastic" in the city had found it was "most probably" from the Bredbury blaze.
Air samples taken at the site have come back as non-toxic, Greater Manchester Fire and Rescue Service said. Work to test the dust and ash created is ongoing.
An investigation team are due to attend the scene to try and work out how the fire started.