Whitworth Art Gallery to mark closure with 'celebratory weekend'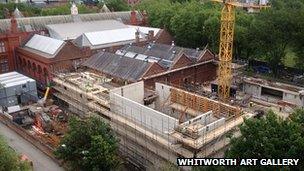 A Manchester gallery is to host a "final celebratory weekend" later before closing to allow a £15m redevelopment to be completed.
Whitworth Weekending will see "art, music and performance" in the park around the Whitworth Art Gallery.
A spokeswoman said it will end with a "beautiful and elegiac" work that will see horses performing in the park and would be "a fitting goodbye for now".
The free event will run from 16:00 BST to midnight on Sunday.
It will see music from brass band Acid Brass, world music acts Serge Tebu and OQuadro and local bands We Are Willow and Tokolosh, spoken word performances from Zambian poet Chanje Kunda and Somali storyteller Elmi Ali and workshops led by painter and sculptor Lucy Burscough and paper artist Gemma Latham.
'Enchantment and displacement'
It will also see a performance on Saturday evening by Manchester School of Samba, who will leave the stage in the park to lead the audience around the park before completing their show in front of the gallery.
The weekend will close with the debut of a specially commissioned work, Six White Horses, by local artists Nick Crowe and Ian Rawlinson, which the spokeswoman said would "occupy the gallery's parkland, transforming it in an extraordinary way".
She added that the work was "enchanting [and] spectacular" and would see "real horses in the park".
"The like of this has never been seen in Whitworth Park before, and may never be seen again - it offers a moment of both enchantment and displacement."
The gallery will be closed until the summer of 2014 to allow a project to build two new sections at the rear of the building and the creation of three large exhibition spaces and a promenade gallery to be completed.
Related Internet Links
The BBC is not responsible for the content of external sites.