Maninder Singh death hospital agrees compensation payout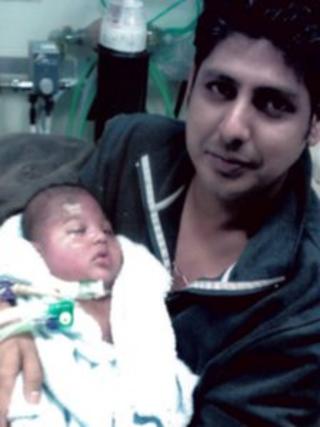 A hospital has agreed to compensate the family of a baby who died after being starved of oxygen when midwives failed to notice he had been born.
Maninder Singh was born under bed sheets at St Mary's Hospital in Manchester in October 2008, while his mother was numb from an epidural.
The delay in resuscitating him led to his further decline and death six months later, a coroner found.
The hospital apologised in April and has reached an out of court settlement.
Bosses have agreed to compensate father Kamaljeet with an undisclosed sum for the additional financial strain placed on the family as he spent the six months leading to his son's death by his side.
'Fought so hard'
Maninder's mother Geeta died in 2010 from complications following the birth of the couple's second child.
Mr Singh said: "We lost a much-loved son under horrific circumstances.
"We have fought so hard and we waited so long to receive an apology and an admission that more could have been done to save him.
"No amount of money in the world could ever replace what we have lost, but we are now finally in position to move forward with our lives.
"We feel that in some small way justice has been done."
Solicitors representing the family have questioned why it took the hospital four years to admit fault and apologise.
Sharon Williams, of Irwin Mitchell, said: "The family want assurances that lessons have been learnt from the failings identified in the trust's own investigation, clarity as to why there have been such delays in admitting fault and an apology to be made to the family - not only for their loss, but for any additional heartache they have endured during this process."