Wigan man stabbed and robbed at his door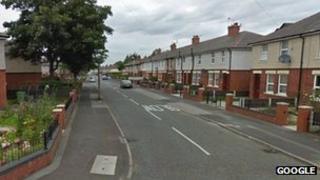 A 62-year-old man from Greater Manchester has been stabbed as he answered a knock at his door.
It happened at the victim's home on Diamond Street, in Leigh, Wigan at about 17:30 BST on Sunday.
After stabbing the 62-year-old four times, police said the offender grabbed his wallet before running away from the scene.
The victim's injuries are not life-threatening, but police said the attack could easily have been fatal.
'Cowardly' attack
Police said when the man opened his kitchen door he was confronted by the burglar who forced his way in and stabbed him in the back and chest.
Officers are appealing for anyone with information on the attack to contact them.
The offender is described as white, about 5ft 10in (1.77m) tall, in his 30s, with a scruffy appearance and said he may have taken drugs.
Det Insp Martin Reddington said: "It is no exaggeration to say this man's injuries could have been far worse and possibly even fatal given that he was stabbed up to four times with some sort of blade.
"The actions of this violent offender are utterly reprehensible, cowardly and we need to find him and bring him to justice."
He said he believed it was an isolated incident, but as "a precaution" advised residents to lock their doors and not to answer them to strangers.