Robert Knott: Traffic lights murder conviction quashed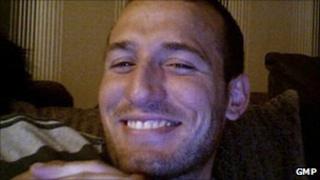 A man convicted of shooting dead a rival when he stopped at traffic lights has had his murder conviction quashed by the Court of Appeal.
Robert Knott, 32, of Timperley, Greater Manchester, was jailed for life two years ago for killing Kevin Bond, 30, in September 2010.
Mr Knott had claimed he acted in self-defence when he shot Mr Bond with a sawn-off shotgun in Wythenshawe.
Judges said his conviction was unsafe and ordered a retrial.
The original jury heard the two men had a long-running feud and both had previous convictions for violence.
Credibility undermined
The court was told Mr Bond had got out of his car to confront Mr Knott, who had been following him, when he was shot.
Mr Knott claimed he fired because Mr Bond had pulled a pistol from the waistband of his trousers and aimed it at him.
At his trial, Mr Knott's barrister said Mr Bond had held the gun in his right hand despite Mr Knott telling his legal team he saw the gun in Mr Bond's left hand.
Mr Bond's mother then gave evidence that he was left-handed while later in the trial Mr Knott told the jury the gun was in Mr Bond's left hand.
Appeal court judges agreed this inconsistency could have undermined his credibility in the eyes of the jury.
Lord Justice Laws said: "This may have led the jury, in our judgment, to suppose that Knott was tailoring his testimony and therefore to form an adverse view of his credibility.
"On that basis, we cannot exclude the possibility that he was convicted on a false basis and, that being said, we are bound to conclude that the conviction is unsafe."
No date was set for Knott's re-trial.