Michael Le Vell trial: Medical examination of girl 'neutral'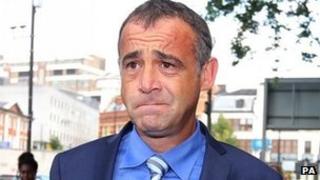 A doctor who examined the girl who claims she was raped by Coronation Street actor Michael Le Vell told a court the results were inconclusive.
Mr Le Vell, 48, who is on trial under his real name Michael Turner, denies 12 charges, including five of rape.
Dr Louise O'Connor examined the girl, who cannot be named, two years after an attack was said to have occurred and told Manchester Crown Court her findings had been "neutral".
Mr Le Vell has denied all charges.
The actor, from Hale in Greater Manchester, also faces three counts of indecent assault, two of causing a child to engage in sexual activity and two of sexual activity with a child.
The offences were allegedly committed between 2001 and 2010.
Paediatric consultant Dr O'Connor said she and a second medical expert agreed that the findings of the examination were "neutral and neither support or refute the allegations".
She added that the victim had two medical conditions which "may indicate sex abuse" but were not a definite sign.
Mr Le Vell has played the role of Kevin Webster in the popular ITV drama for the past 30 years.
The case continues.