'Crucial' Rochdale Town Hall roof work to stop leaks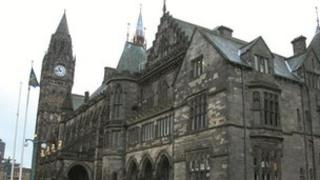 About 30 tonnes of slate will be removed and replaced during "crucial" work on Rochdale Town Hall's roof.
Rochdale Borough Council said the restoration project, due to start later, is down to wear and tear over time leading to small leaks.
A spokeswoman said the leaks could "damage the heritage features inside the building if they continue".
The work on the Grade I-listed building, which opened in 1871, is expected to run until January.
Repairs to the timber underneath the roof tiles will also take place.
Replacement roof tiles have been sourced from Burlington slate quarry, in Kirkby-in-Furness, which supplied the original slate for the building.
Rochdale councillor Jacquie Beswick said: This is a really exciting project because it will ensure our greatest treasure is protected for future generations to enjoy.
"We have worked hard with key interested parties to ensure that every aspect of this project is undertaken in a way that will preserve the unique and stunning features of this building, which we are incredibly proud of".
The town hall will remain open throughout, with the "vast majority" of the car park also staying open.