Pudding throw recalls Lancashire and Yorkshire rivalry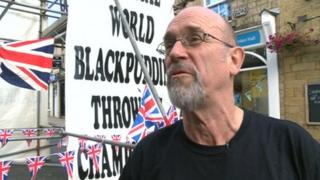 Hundreds of Lancashire black puddings were thrown at piles of Yorkshire puddings in a competition that recalls the rivalry between the two counties.
The annual World Black Pudding Throwing Championship took place in Ramsbottom.
Contestants threw the delicacy 30ft (9m) high, aiming to knock piles of Yorkshire puddings off a shelf.
The event hails from the War of the Roses, when legend has it food was thrown when ammunition ran out.
Previous years have seen competitors travel from as far afield as Australia and the US.
Organiser Phil Taylor said: "The idea is to have a village festival atmosphere."