Pendleton regeneration in Salford gets go-ahead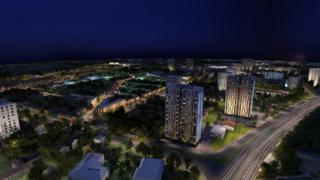 A £400m scheme to regenerate part of Salford which was hit badly in the 2011 riots has finally been approved by the government.
MP Hazel Blears and Salford's Mayor Ian Stewart welcomed the decision by Eric Pickles, the Department of Communities and Local Government Secretary.
Earlier this year concern had been expressed over an apparent stalling of approval for the Pendleton PFI scheme.
A formal announcement is understood to be due on Tuesday.
Local Labour Councillor John Warmisham said: "The 30-year contract has been signed, there is no going back."
Ms Blears, Labour MP for Salford and Eccles, led a local delegation in May to meet Mr Pickles, urging him to approve the scheme after it stalled over government concerns about the cost.
'Fantastic and brilliant'
"This is fantastic news for people in Pendleton," said Ms Blears.
"Although we have now won the fight, the hard work starts here and we need to ensure that we continue to involve local people in creating a development of the highest quality."
Her Labour colleague Mr Stewart said: "This is brilliant news for local people.
"They have waited so long and now this gives us all an opportunity to dramatically improve our own homes and local environment as well as creating jobs."
The scheme was first mooted 10 years ago. Last year the council's planning committee approved the programme to build 1,600 new homes and refurbish more than 1,200 in Pendleton.
Phase one of the plan, from consortium SP+, includes building about 300 new homes and refurbishing 1,253 properties, including the area's nine tower blocks, with new kitchens, bathrooms and windows.
The full project also includes changes to Clarendon Park and other green spaces, new walkways and cycle paths, a community farm, an extra care facility, new shopping promenade and new sports pitches at the Fit City development.
In August 2011 Shopping City in Pendleton was the focal point for rioting and looting as disorder that began in north London spread across several major towns and cities in England.
Nobody from the DCLG was available for comment.