Service held for PCs Fiona Bone and Nicola Hughes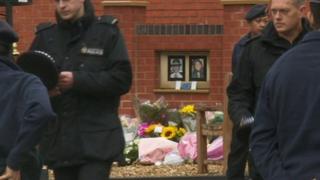 A memorial service has been held on the first anniversary of the murders of two police officers in Greater Manchester.
PCs Fiona Bone, 32, and Nicola Hughes, 23, were shot dead while they investigated a suspected burglary in Hattersley, Tameside, last year.
The service, at Hyde police station, included a minute's silence at 10:53 BST, the time when the officers were killed.
Dale Cregan, 30, was given a whole-life sentence in June for their murders.
Cregan was also jailed for the murders of father and son David and Mark Short.
Family, friends and colleagues of the PCs attended the service. The minute's silence was also observed by other forces in the region, including Lancashire and Cheshire Police.
Remembering Nicola
Forces further afield also remembered the two PCs, with Sussex Police also observing the silence and lowering the force's flag to half mast.
PC Hughes' stepmother Nat Hughes said: "It's difficult to believe it has been a year. So many things have happened and I think it has not been a normal situation, it has been crazy.
"So many people have been positive. So many people have wanted to remember Nicola and have been so supportive for us.
"In another respect it has been like just revisiting it constantly, and with the trial and everything it has been difficult to move forward."
Her father Bryn will be competing in the north pole marathon for charity and in memory of his daughter.
"I wanted to do something positive to remember Nicola by," he said. "The biggest motivation is making sure people remember Nicola and remember what sort of person she was."
'Difficult time'
Mr Hughes said the family "haven't had a moment to grieve in private" because of the media interest and the public support following the shootings.
Greater Manchester Police Chief Constable Sir Peter Fahy said: "It's always on anniversaries like this that you recall what an awful day it was - a huge tragedy for the families, the colleagues and the loved ones of Fiona and Nicola.
"It obviously had a huge impact on GMP as a force, but also the whole community and the country.
"I think the murders of Fiona and Nicola shocked the nation because they were two ordinary police officers going out doing their duty, trying to protect the public, and they were killed in a very brutal, callous manner."