Fracking in Salford would be 'too close to schools'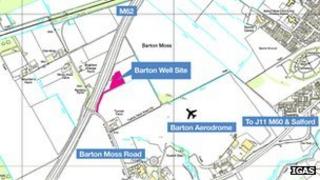 An MP has expressed concerns over the potential for shale gas extraction near two schools in Salford.
Barbara Keeley, MP for Worsley and Eccles South, said exploratory drilling at the Irlam site, due to start next month, would also affect house prices and people's quality of life.
Energy company IGas said it had planning consent to assess what type of rocks could be found at the site, but not for fracking.
The drilling should last 12 weeks.
The company has been holding an open day at Salford City Stadium for people to find out more about its plans.
Labour MP Ms Keeley said: "This is a real untested process. Why start at a site with two schools less than a mile away? People living less than a mile away.
"Who would want to live in an area where they are fracking for shale gas?"
Ms Keeley said the football pitch-sized site was also too close to the peat bog Chat Moss, which is a "precious natural area which needs protecting".
'Not fracking'
Shale gas extraction, or fracking, involves the hydraulic fracturing of the ground using high-pressure liquid containing sand and chemicals to release the gas.
Critics argue that the process may cause earth tremors.
John Blaymires, chief operating officer of IGas said: "We are not fracking this well. We don't have any planning consent to frack the well.
"If we do find there is a large potential volume of coal or shale gas there then that will be subject to separate planning applications and separate consultations with the communities, the planning officers and the council."
Earlier this year, the British firm said there may be up to 170 trillion cubic feet (4,810 cubic km) of gas in the areas it is licensed to explore in northern England.