Man 'critical' after taking drugs at Warehouse Project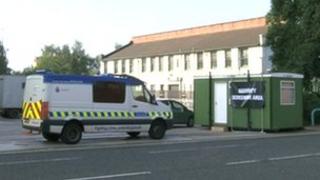 A man is critically ill after it is thought he swallowed "a quantity of drugs" at a Manchester nightclub.
The 25-year-old had been arrested by police at The Warehouse Project on Saturday evening after security staff suspected him of dealing drugs.
It is believed he swallowed drugs in his possession while under arrest.
It follows the death of a 30-year-old man from Stroud, Gloucestershire, who collapsed at the same venue and later died in the early hours of Saturday.
Police are currently investigating whether a "bad batch of drugs" caused the death.
Officers said the arrested man was approached by staff at the Trafford Wharf Road venue, but ran off.
He was later detained for possession of Class A drugs when police attended at 23:50 BST.
The man was taken to Salford Royal Hospital, where he is undergoing treatment.
Police confirmed a number of other people received treatment on Saturday night after taking drugs at the venue, from both onsite medics and in local hospitals.
Chief Supt Mark Roberts said: "After the tragic event of Friday night it almost defies belief that drug dealers would continue to target this venue and equally that people would risk their lives by taking drugs supplied by people who have no regard whatsoever for their wellbeing.
"The main point to get across is you do not know what is in the drugs you are taking and the potential effects they can have".
In a statement released on Saturday, the Warehouse Project said the venue "operates a zero tolerance policy with regards to drugs however if you have taken something and start to feel unwell please tell a member of staff".