Decline in gang shootings in Greater Manchester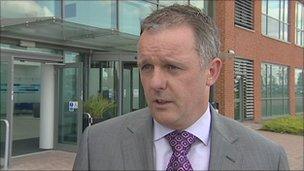 There has been a "dramatic decline" in the number of gang-related shootings in Greater Manchester, police have said.
The city first endured a spate of shootings connected to gang activity in the 1990s.
In 2004, Greater Manchester Police (GMP) set up a dedicated anti-gun crime taskforce, Operation Xcalibre, to tackle gang-related shootings.
High visibility policing and proactive community work has seen those shootings drop from 40 in 2004 to two in 2012.
Now seen as an effective anti-gang crime model, GMP is hosting a national conference on its operation on Friday and Saturday.
The force said tackling gun crime is now less about enforcement and more about engaging with those who might be tempted to join gangs.
And overall shootings in Greater Manchester have dropped from 131 in 2003-2004 to 30 in 2012-2013.
Warren Williams was a gang member in Moss Side, Manchester, around 20 years ago before he was jailed for drugs and fire arms offences.
He now works with Community Change Foundation in Manchester which tackles gun and gang culture. It also aims to reduce youth offending and reoffending rates.
Mr Williams said a combination of police work and community work to "change the mind set" of youths had reduced gun crime in the area.
He said: "The community response to gang violence has changed quite a lot.
"There's a lot of people who have been more proactive and have taken an active role."
Meetings have taken place between rival groups and work has been carried out with gang members and their families to reduce gun violence and conflicts, he added.
An Integrated Gang Management Unit also works with the probation, children's and youth offending services to help young people move away from the gang lifestyle and find a career.
Det Ch Supt Darren Shenton, who oversees Xcalibre, said the force is "justifiably proud" of its achievements but "tackling this type of crime needs long-term strategies to address social issues around education, housing and opportunities".
Tony Lloyd, Greater Manchester Police and Crime Commissioner, said: "We have to continue to keep up the pressure to dismantle these gangs."
The death of Benji Stanley, 14, who was shot three times with a shotgun as he queued for food in a takeaway shop in Moss Side in January 1993 highlighted Manchester's gang-related gun violence.
The city was dubbed "Gunchester" by the national press in the early 1990s following a surge in gang shootings.
The title became a tag that gangs identified with, which "enhanced their notoriety", GMP said.
Related Internet Links
The BBC is not responsible for the content of external sites.