Husband jailed for Zaneta Kindzierska murder in Newton Heath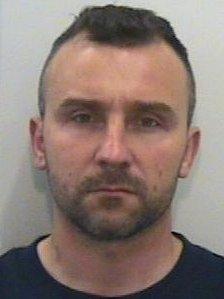 A 40-year-old man has been jailed for life for murdering his wife, who was found stabbed to death in Manchester.
The body of Zaneta Kindzierska, 32, was discovered with a single stab wound to the chest at their house on Surbiton Road, Newton Heath, in June.
Krzysztof Kindzierski was sentenced to 18 years and four months in jail after admitting the murder at an earlier hearing at Manchester Crown Court.
Police said Kindzierski has "never said what prompted the attack".
'Devastating consequences'
Officers said a member of staff at Asda supermarket in Newton Heath alerted police to Kindzierski's teenage step-daughter, who had approached an employee inside the store on 18 June.
The teenager, who was with her eight-month-old daughter, told the woman that Kindzierski, who was waiting outside the store, had killed her mother.
Officers were called but Kindzierski left with two of his own young children. Police forced open the door of their home and found Ms Kindzierska's body in the upstairs bathroom.
Police said a blood-stained knife was found under a bed. Kindzierski was later spotted near the house and was arrested.
Senior investigator Duncan Thorpe said: "This is a shocking waste of life which has had devastating consequences for Zaneta Kindzierska's children and grandchild."
Related Internet Links
The BBC is not responsible for the content of external sites.