Rochdale child sex ring: Appeal against sentences refused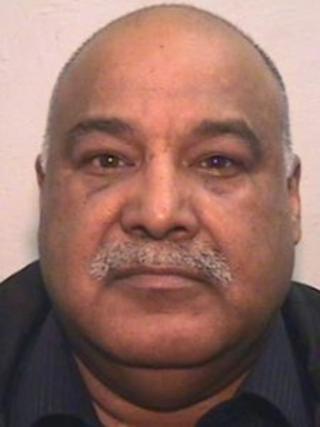 Nine men who were part of a child sex ring in Greater Manchester have been refused leave to appeal against their convictions and jail sentences.
The men from Rochdale and Oldham were jailed for between four and 19 years for offences including rape and conspiracy to engage in sexual activity with a child in May last year.
Their lawyers claimed a breach in jury confidentiality gave a right to appeal.
However, the Criminal Appeal Office said permission had been refused.
At trial, Judge Gerald Clifton said the men treated the girls, some who were as young as 13, "as though they were worthless and beyond respect".
After sentencing, Alias Yousaf, the solicitor of one of the convicted men, Adil Khan, said an appeal would be lodged.
He claimed comments on Twitter by the far-right group Infidels of Great Britain and the leader of the British National Party, Nick Griffin, showed the jury's deliberations had been leaked.
'No evidence'
The tweet led eight defence lawyers to ask for the jury to be discharged and a re-trial to be held.
But Judge Clifton said there was "no evidence to suggest a juror was at fault" and allowed the case to continue.
A spokeswoman for the Criminal Appeal Office confirmed that permission to appeal was refused to all nine defendants by a single judge.
Following the refusal, the men have two weeks during which they can renew their application for permission to appeal.
All nine men were convicted of conspiracy to engage in sexual activity with girls under the age of 16.
Shabir Ahmed, 60, who was regarded as the ringleader, was jailed for a total of 19 years for conspiracy, two counts of rape, aiding and abetting a rape, sexual assault and a count of trafficking within the UK for sexual exploitation.
Kabeer Hassan, 25, of Lacrosse Avenue, Oldham, was sentenced to nine years for rape and three years, concurrently, for the conspiracy conviction.
Abdul Aziz, 42, of Armstrong Hurst Close, Rochdale was sentenced to nine years for conspiracy and nine years, concurrently, for trafficking for sexual exploitation.
Abdul Rauf, 43, of Darley Road, Rochdale, was also convicted of trafficking a child within the UK for sexual exploitation, received six years.
Mohammed Sajid, 36, was sentenced to 12 years for rape, six years for conspiracy, one year for trafficking and six years, all concurrent, for sexual activity with a child.
Adil Khan, 43, was sentenced to eight years for conspiracy and eight, concurrently, for trafficking.
Mohammed Amin, 46, was sentenced to five years for conspiracy and 12 months, concurrently, for sexual assault.
Abdul Qayyum, 45, was jailed for five years for conspiracy. All six men were from Rochdale.
Illegal immigrant Hamid Safi, 23, of no fixed address, was jailed for four years for conspiracy and one year, concurrently, for trafficking.