Souvik Pal: Manchester student canal death 'a mystery'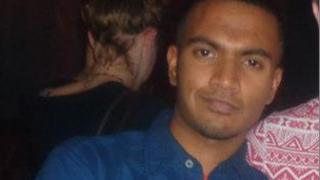 It is still a "mystery" how a student ended up dead in a canal after going missing on New Year's Eve, an inquest has heard.
Manchester Metropolitan University student Souvik Pal, 19, drowned after visiting the Warehouse Project nightclub in Trafford on 31 December.
An inquest heard Mr Pal had taken ecstasy on the night. His body was discovered three weeks later.
Trafford Coroner Joanne Kearsley recorded an open verdict.
Mr Pal was described as a "very popular young man" who began drinking alcohol and taking drugs after he started university, his flatmates told the hearing.
Friend Charlotte Wilson said she was "worried" about Mr Pal going to the nightclub with her and other friends as he had never been clubbing before he came to the UK from India.
Reported missing
"It's such a large, intimidating venue because it's very busy, but he was very enthusiastic about it," she told Trafford Coroner's Court.
All three friends who gave evidence said he drank alcohol and took ecstasy in the hours before they went to the club.
One described how Mr Pal had researched in advance how to conceal drugs from the club's sniffer dogs - hiding them in his clothing - before taking more ecstasy inside.
After he became separated from his friends, he was thrown out for "charging" at a member of the security staff in an attempt to get past the one way system.
The last confirmed sighting of him was on the club's CCTV camera at about 23:00 GMT on 31 December. He was reported missing by a flatmate the following morning.
A short time later, another camera recorded footage of two people going down an embankment to the canal - and one, believed by police to be Souvik - appearing to try to climb a fence to the water.
But no witnesses have been found to confirm it was him, the hearing was told.
Despite extensive police searches, it was three weeks before Souvik Pal's body was found - just 50 ft from the club - in the Bridgewater Canal.
A post-mortem examination showed he had no injuries and the cause of his death was given as drowning.
The inquest heard it was still a "mystery" how and where he went into the water.
Mr Pal's parents attended the hearing at Trafford Coroner's Court where they thanked their son's friends and police for the efforts they had made to find him.
Recording an open verdict, the coroner told them it was testament to their son that so many friends were in court to give evidence.