Engineering work at Manchester Victoria stops trains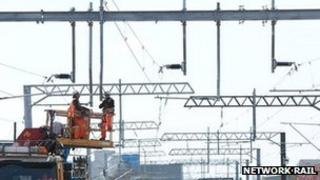 A central Manchester railway station will be without any rail services over the Christmas period.
After Christmas Eve, there will be no trains in or out of Manchester Victoria until 2 January owing to workers electrifying the lines.
The project is to help allow electric trains use the station by late 2014. Station redevelopment work will also continue as part of a £44m plan.
Manchester Piccadilly, Oxford Road and Deansgate stations will remain open.
Several Northern Rail services which usually begin or terminate at Victoria will use Manchester Oxford Road or Salford Central instead.
Martin Frobisher, from Network Rail, said the choice was made to avoid staggering the work over several weekends and bank holidays.
He said: "There is never a good time to carry out major work and, on balance, completing the work over the holiday period was the best time to do this essential project."