Stranded cat rescued from 90ft viaduct in Stockport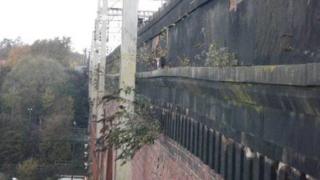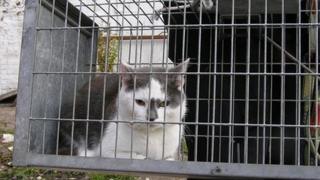 A cat has been rescued after two nights stuck on a 90ft (27m) railway bridge.
The grey and white male, which had been stranded on the ledge of the viaduct since Wednesday, was brought to safety at about 12:00 GMT.
Firefighters, working with the RSPCA, brought the cat down from the bridge on Chestergate in Stockport.
The charity said the cat is not microchipped but was wearing a blue collar and appealed for its owner to contact them.
The cat was spotted on the viaduct ledge by a member of the public.
An RSPCA spokesman said: "It has been taken to RSPCA Greater Manchester Animal Hospital to be checked over by a vet and receive some TLC."
RSPCA inspector Heather Morris said the cat was wearing a "soft and velvety light blue collar with no bell".