Barton Moss: Drillers 'breaching planning permission'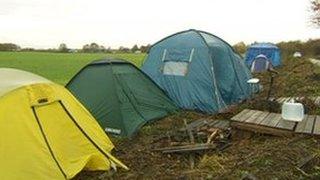 An environmental group has written to Salford City Council over concerns the exploratory drilling of a site may be in breach of planning permission.
Energy company IGas has permission to start drilling to see what type of gas or oil can be found at Barton Moss.
Friends of the Earth said no environmental impact assessment (EIA) had taken place and permission did not allow for shale gas exploration.
IGas said the proposed development did not currently require an EIA.
Helen Rimmer, from Friends of the Earth, said in the letter it believed there were "major discrepancies between the original planning permission and IGas's current plans".
She said: "It's clear that IGas have intentions to drill for shale gas, which could lead to risky fracking.
"We are concerned that fundamental environmental impacts have not been taken into account."
'Investigate any concerns'
A spokesman for IGas said: "The planning permission is for an exploration well to help us better understand the geology of the area. As we explore we may encounter coal bed methane and shale."
They added: "We undertook environmental studies at the time of the planning application, which were published in 2010."
Five protesters from Frack Free Greater Manchester are living in tents at the site and say residents support them. Other campaigners are expected to join on Saturday.
A Salford City Council spokesman said "it would investigate any concerns raised" by the network.
Earlier this year, IGas said there could be up to 170 trillion cubic feet (4,810 cubic km) of gas in the areas it is licensed to explore in northern England.