Barton Moss: MP says anti-fracking protest 'over policed'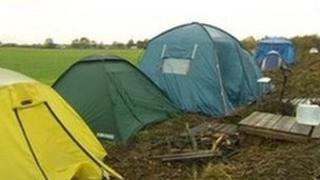 An MP has expressed concerns over the number of officers policing a fracking protest site in Salford.
Campaigners set up the camp at Barton Moss last month where exploratory drilling for gas is to take place.
Barbara Keeley, MP for Worsley and Eccles South, said there were 150 officers at the site instead of "patrolling in our local communities".
Greater Manchester Police (GMP) said staffing numbers were "continually under review".
Ms Keeley said: "I am concerned that a large police force is being deployed to police a small protest.
"Greater Manchester Police have over 400 fewer frontline police officers now than we had in 2010, so we also cannot afford to have any of our local police officers deployed at this protest.
"I am worried that crime could rise locally as a result."
'Proportionate number'
In a statement, GMP said the force "respects everyone's democratic right to peacefully protest".
It said: "Due to the nature of the protest, a proportionate number of police officers are required to ensure the safety of all sections of the public.
"These officers are drawn from across the force including specialist departments.
"We will continually keep staffing numbers under review to ensure a sensible but safe number of officers involved in the operation."
Energy company IGas has permission to start drilling to see what type of gas or oil can be found at Barton Moss.
Protesters from Frack Free Greater Manchester are living in tents at the site and say residents support them.