Bolton teenager Eden Lomax sentenced for Bolton murder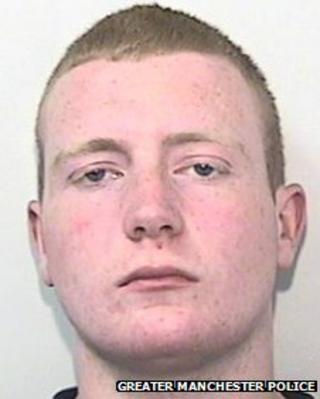 A teenager convicted of murdering a man he punched who fell against the pavement of a Bolton street, will serve at least ten years.
Eden Lomax, 17, of Northwood Crescent, Bolton, punched 43-year-old Simon Mitchell who fell and hit his head.
Mr Mitchell had been trying to diffuse tensions between Lomax and his friends on a night out in June, Manchester Crown Court heard.
Lomax was found guilty of his murder following a trial last month.
He will be held at a Young Offenders' Institute before being moved to an adult prison to serve the remainder of his sentence. He will be eligible for parole after 10 years.
Lomax earlier pleaded guilty to two other unprovoked attacks on strangers on nights out in the weeks leading up to Mr Mitchell's attack in Victoria Square.
Mr Mitchell, of Hunger Hill, Bolton, began talking to Lomax and his friends as he walked past them, the court heard.
An agitated Lomax then threatened to punch Mr Mitchell if "he didn't go away", police said.
He struck after Mr Mitchell offered his hand in friendship several times.
The blow fractured Mr Mitchell's jaw but he fell backwards hitting his head on the pavement.
After Lomax was convicted Det Ch Insp Pete Jackson said: "Simon lost his life at the hands of a young thug, who was driven by aggression and pent-up violence."