Cellar girl couple: Bid to increase 'lenient' sentence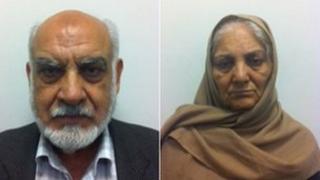 The Court of Appeal is to decide if a couple who trafficked a child to the UK and kept her as a servant received a "lenient" sentence.
Ilyas Ashar and his wife Tallat brought the 10-year-old from Pakistan and kept her at their home in Eccles, Salford, where she was raped.
Ashar was jailed for 13 years and his wife for five years at Manchester Crown Court in October.
MP Frank Field has asked the Solicitor General to review their sentences.
The matter has now been referred to the Court of Appeal, where judges will rule on the matter at a later date.
'Heinous crime'
Ilyas Ashar, 84, was convicted of 13 rapes. His 68-year-old wife was convicted of trafficking and benefit fraud at an earlier trial.
A spokesman for the Attorney General's Office said: "After careful consideration, the Solicitor General Oliver Heald has decided to ask the Court of Appeal for permission to refer the sentences of Ilyas and Tallat Ashar as possibly unduly lenient."
Mr Field, Labour MP for Birkenhead, said: "Modern slavery is a heinous crime and I welcome the decision to review the sentence."
The victim, who cannot be named for legal reasons, was only found in 2009 after trading standards officials visited the Cromwell Road home investigating allegations of illegal activity.