Flare 'fired at police helicopter' near Salford protest camp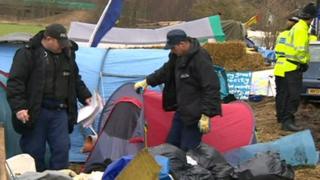 Police believe a flare was fired at the force helicopter from an anti-fracking protest camp in Salford.
The flare was aimed at the helicopter as it was coming in to land at Barton Airfield at about 00:15 on Saturday, Greater Manchester Police said, calling it an "unbelievably stupid act".
The Barton Moss protest camp is being searched by officers.
Frack Free Greater Manchester and Barton Moss Community Protection Camp said no flare was fired from the camp.
The camp was set up in November after the go-ahead was given for exploratory drilling for gas at the site.
The entrance to the site was blocked for several hours by three protesters, who were linked together by tubes filled with concrete.
'Seeking confrontation'
Ch Supt Mark Roberts said: "Had this flare caused an emergency situation it would not only have been catastrophic for the aircraft and its crew but potentially for numerous homes near the airfield, the M62 motorway and a children's residential facility.
"If one of the protesters is responsible, I suspect their identity will be known to others and I would expect those reasonable members of the anti-fracking campaign to provide any information they have to the police".
He said he recognised "the genuine concerns of many of the protesters in relation to exploratory drilling" but there was an "element of regular protesters from outside the Greater Manchester area who seem more interested in seeking confrontation with the police".
Sacha Conway, who is living at the camp, said no flare was fired from the camp "on Saturday or any other day".
He said: "We would condemn any such action as aggressive, violent and in breach of our very strict safe places policy."
Rachel Thompson, from Frack Free Greater Manchester, said it was a police tactic "aimed at isolating the camp from the community and to put them in a bad light".
Energy company IGas has permission to build a vertical test well at the site, but campaigners fear the process could lead to the discovery of shale gas and future fracking to extract it.