Sir Andre Geim and Sir Konstantin Novoselov get freedom of Manchester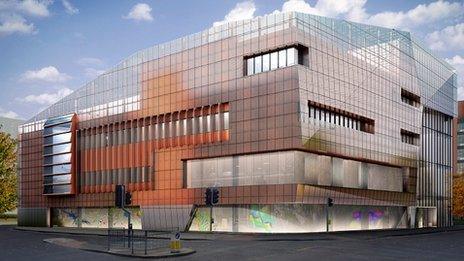 Two Nobel Prize-winning scientists have been awarded the honorary freedom of Manchester for their work on developing a form of carbon material.
"Wonder material" graphene was isolated for the first time in 2004 by Sir Andre Geim and Sir Konstantin Novoselov at the University of Manchester.
It consists of a single layer of carbon atoms packed in a honeycomb structure.
Graphene, said to be stronger than steel, has helped improve products like smartphones, broadband and condoms.
In 2010, the scientists were awarded the Nobel Prize in Physics for their research.
Councillor Naeem ul Hassan, Lord Mayor of Manchester, said: "It was a privilege to be able to present the freedom of the city to Sir Andre and Sir Kostya.
"Manchester is a city born of innovation so it is only right we recognise the achievements of Sir Andre and Sir Kostya, who have joined the pantheon of scientific giants connected to our forward-looking city."
Sir Andre described the move as a "great honour".
Sir Kostya said: "Manchester was home for the largest proportion of my most exciting experiments, and the local support we get is tremendous".
The university said the £61m NGI will be the UK's "home of research" into graphene.
Related Internet Links
The BBC is not responsible for the content of external sites.