New Stockport museum 'to display Vulcan bomber'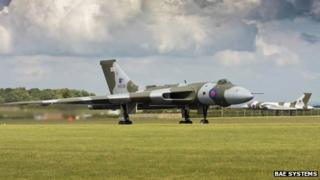 Plans for a new aviation museum in Greater Manchester that will permanently display a Vulcan bomber have been revealed.
A proposal has been submitted to build Avro Heritage Museum at the former BAE Systems manufacturing site at Woodford Aerodrome, in Chester Road, Stockport.
A disused fire station on the 0.97 hectare (2.39 acre) site will be developed if planning permission is granted by Stockport Council in April.
The museum could open in September.
'Preserve important artefacts'
Vulcans were designed and built at Woodford for the Royal Air Force.
Former owners BAE Systems sold the site to Avro Heritage Limited in December 2011 after production ceased in March.
The defence giant had manufactured at the site since 1924.
BAE Systems agreed to fund the development for a new heritage centre when it sold the aerodrome, the planning application said.
A catalogue of aviation history documents and exhibits from the Avro Heritage Trust charity's existing heritage centre will be transferred to the museum.
Visitors would walk from the main exhibition hall to view the aircraft.
Chris Taylor, director at Cassidy + Ashton architecture firm, said: "This is a very significant project... because it will showcase and preserve important artefacts from aviation history while anchoring that legacy in a location that boasts a similar rich history."
The Vulcan made its maiden flight in 1952 and acted as a deterrent during the Cold War, and was used in combat in the Falklands War.
The last Vulcan was withdrawn from service in 1984.