Fatal Altrincham fire: Woman warned about David Potts by social workers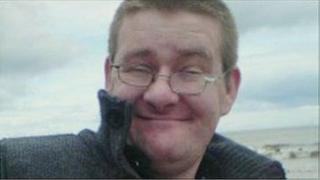 Social workers warned a woman her boyfriend was dangerous weeks before he set a fire at her home in which she and her son died, an inquest has heard.
David Potts, 39, set fire to Tracy Jones' home in Barlow Street, Broadheath, Altrincham in 2011.
Ms Jones and her son Shaun Van Stratten, 15, were killed. Potts also died from burns in the blaze.
Stockport Coroner's Court heard Potts threatened Ms Jones and her children after she left him.
Ms Jones' son Zachary, 4, and daughter Caitlin, 18, were injured but survived the blaze on 19 September 2011.
The inquest was told Potts was "profoundly upset" when Ms Jones ended their relationship after Trafford Social Services warned her about him in August 2011.
Personality disorder
As well as threatening Ms Jones and her children, the inquest heard he also made threats to burn down the probation office and made inquiries into getting a hand grenade.
The inquest was also told Potts had a child with an underage girl from Lancashire in 2007 and had threatened to harm himself and the child.
Potts had a long history of mental health problems, substance abuse, alcoholism and self-harming, assistant coroner Joanne Kearsley told the inquest.
His mother Christine Potts told the inquest Potts had had a heart attack and did not believe he had long to live.
She said he never mentioned harming others, telling the inquest he only mentioned harming himself.
A serious case review published in January criticised health officials who "failed to grasp the seriousness of the situation" and Greater Manchester Police for inaction prior to the blaze.
The review said Potts, who had been diagnosed with a personality disorder, had indicated his intention to set fire to himself and harm police officers a month earlier.
However, the review said it was not possible to say whether the incident could have been prevented.
The inquest is expected to last six weeks.