Eccles launched as 'dementia-friendly' town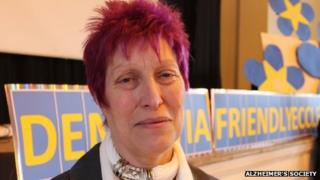 A woman with dementia has begun a campaign with her husband to make their town "dementia-friendly".
Tony and Joy Watson have produced a guide for shops in Eccles to help customers with dementia as she found shopping could be a "traumatic experience".
Salford and Eccles MP Hazel Blears praised the couple's "inspirational efforts" to help people with dementia.
Salford City Mayor Ian Stewart launched the initiative at Eccles town hall.
'Stress builds up'
The couple said the aim of the help pack is to help shop workers spot the signs of people with the condition and provide ways they can support them to make shopping "more comfortable".
Mr Watson said: "It's a question of awareness and understanding."
Mrs Watson, who was diagnosed in June at the age of 55, said: "The worst thing is being rushed.
"That builds up stress and I drop my money and I get lots of tuts from customers."
She now wears a badge saying "I have Alzheimers please be patient with me".
Labour MP Ms Blears, who was also at the launch, paid tribute to Mr and Mrs Watson for "helping to make life that little bit easier for people with dementia."
She announced she will stand down at the next general election to spend more time with her family including her mother Dorothy who has dementia.
Ms Blears is also part of the Salford Dementia Action Alliance and vice chair of the All Party Parliamentary Group on Dementia.
She said: "I want people with dementia to remain part of their community for as long as possible and I'm sure that will happen here in Eccles if we continue to see so much fantastic support from local people and businesses."