Anti-fracking supporter Bez plans to stand as Salford MP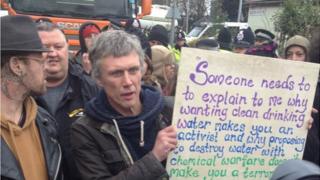 Former Happy Mondays dancer Bez has said he plans to stand as a candidate for Salford and Eccles in the next General Election.
Mark Berry, or Bez, said he wanted "free energy for everybody" when he visited Barton Moss in Salford to offer fracking protesters his support.
Exploratory drilling for shale gas is being carried out at the site.
Last month, incumbent Salford MP Hazel Blears announced she was stepping down in 2015.
Bez said campaigning for "free energy, free food and free anything" will be a key part of his manifesto.
'New ideas'
He said: "I said that [I would stand as an MP] off the cuff... but now, by the response I have had, I'm going to do it.
"The bigger people's voice[s] get the stronger we become... Power to the people."
Bez said he wanted to promote "new ideas" about energy
The 49-year-old added: "I can give free energy. I'm going to give free energy for everybody."
About 60 protesters have been camping at the site in Barton Moss Road since November last year.
They fear drilling could lead to the discovery of shale gas and future fracking to extract it.
Energy company IGas has permission to build a vertical test well, near the M62 and Barton Aerodrome and it is exploring potential energy reserves beneath the area.
Bez plans to return to the site on Monday to join the daily slow walk in front of IGas' vehicles.
IGas says it has "no plans" for fracking.