St Mary's College: Cardinal's old school in church row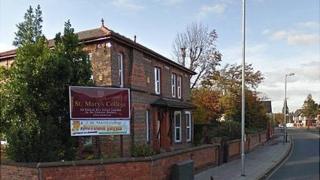 A school whose past pupils include the Archbishop of Westminster is clashing with the Roman Catholic Church over plans to become a free school.
St Mary's College in Crosby, Merseyside, says as a free school it could accept children from "disadvantaged backgrounds".
Its fees would be scrapped and there would be a 50% cap on Catholic pupils.
But the Archdiocese of Liverpool opposes the scheme and the limit on Catholic admissions.
The Archbishop of Westminster, Cardinal Vincent Nichols, attended the school.
Other ex-pupils include former BBC Director General Lord Birt and poet Roger McGough.
The school, which takes pupils from Merseyside, Sefton and West Lancashire, is in discussions with the Department for Education (DfE) about its application.
'It seems strange'
"Being a free school would enable children from disadvantaged backgrounds to come to the school," said head teacher Mike Kennedy.
"It seems strange that the Catholic Church would want to stop that."
He said the admissions cap would not stop more Catholic pupils being admitted if they had siblings already at the school.
Mr Kennedy said that because it wanted to specialise in music, other Catholic children could apply on the grounds of musical ability.
A statement from the Archdiocese of Liverpool said the admissions cap "is not a secure basis for the provision of a Catholic school."
The archdiocese said: "It would be extraordinary, if not contrary to Canon Law, for a bishop to set up a school, or allow a school designated as Catholic to be set up which turned away Catholic pupils on the grounds that they are Catholic."
It said the DfE had advised it would not accept an application for this free school to open with a Catholic designation without the archdiocese's consent.
A spokesman for Cardinal Nichols said the school was not in his jurisdiction.