Farkhanda Younis murder: Husband jailed for life for stabbing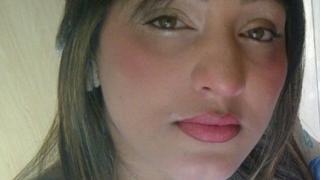 A man has been jailed for life for stabbing his wife to death in a "frenzied attack" while her six-year-old son was in the next room.
The body of Farkhanda Younis, 30, was found at her home in Bamford Street, Chadderton, Oldham, on 19 April 2013.
Jahangir Nazar, 35, of the same address, was found guilty of murder earlier at Manchester Crown Court.
The Independent Police Complaints Commission (IPCC) is investigating what contact officers had with the family.
Nazar had previously admitted manslaughter on the grounds of diminished responsibility but his plea was rejected and he was made to stand trial for murder.
He was ordered to serve a minimum of 22 years in jail.
'Controlling and paranoid'
After sentencing, Ms Younis's family said they believed she had been murdered after saying she wanted to end the relationship because of the domestic violence she had been subjected to by Nazar.
Her family said foreign national Nazar had also been facing possible deportation and that Ms Younis had refused to assist him in obtaining a permanent visa.
Police said Nazar had subjected his wife, known to family and friends as Jabeen, to a "frenzied and merciless attack" and had stabbed her at least 19 times.
After the attack, police said Nazar fled to Longsight then Leeds before heading to the North East.
The following morning, Ms Yousin's son called 999 when he could not get in her bedroom, which was locked.
Nazar was arrested by police three days later on his way to a railway station in Newcastle with a suitcase and a large amount of cash.
Greater Manchester Police's Duncan Thorpe said: "Nazar fled the house leaving the child alone sleeping in the room next door. The boy was distraught when he couldn't wake his mother or get into her bedroom.
"Luckily he was spared the horror of seeing his mother's wounded body because the bedroom door had been locked."
Mr Thorpe said Nazar was "possessive, controlling and paranoid".
David Harley from the Crown Prosecution Service said Nazar "hid behind the defence of manslaughter on the grounds of diminished responsibility" and claimed he was suffering from a mental illness.
In a statement, Ms Younis's family said: "We feel that we have been cheated from watching our beautiful daughter achieve all the things she wanted in life.
"She lived for her children and now she will never get to see them grow up and they will not know who their mother was or how important they were to her."
The police watchdog, the IPCC said that now the court case had ended its investigation would start into Greater Manchester Police's contact with the family before the stabbing.