Khuram Shaikh death: Aid worker murder trial starts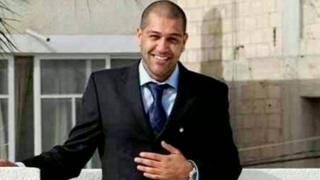 The trial has started of a Sri Lankan politician charged with murdering a British aid worker.
Sampath Vidanapathirana, a town council leader, and five other men have appeared in the High Court in Colombo, accused of murdering Khuram Shaikh.
The Red Cross worker from Rochdale was shot and stabbed to death at a hotel in Sri Lanka on Christmas Day in 2011.
They are also accused of the rape of a woman, who gave evidence at the High Court earlier.
The men deny all the charges against them.
Mr Shaikh, 32, had been working in Gaza fitting prosthetic limbs, but was on holiday in the resort of Tangalle.
He was attacked during a disturbance at a Christmas party.
'Kicked in face'
Speaking through a translator, the alleged female victim told the court she was returning to the hotel via the swimming pool, where a "mob of men" started to kick and assault her.
She fell in the pool, and told the court she was kicked in the face and on the top of the head when she tried to climb out.
She told the court she woke in an ambulance with injuries to her head and "severe pain" in the area of her sexual organs.
Mr Vidanapathirana was a town councillor in Tangalle, the beach resort town in southern Sri Lanka where Mr Shaikh was killed.