Skeletons 'dressed as martyrs' photo exhibition opens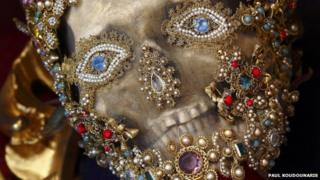 Photos of "richly dressed" skeletons which once graced religious buildings across Europe have gone on show in a Greater Manchester church.
The show features Dr Paul Koudounaris' images of skeletons which were taken from Rome's catacombs in the 1500s and displayed as Catholic martyrs.
The art historian said the "relics" were hidden away in the 18th Century after questions about their origins.
The images are on show at Salford's Sacred Trinity Church until 10 April.
Dr Koudounaris, a specialist in visual culture of death, said the skeletons were dressed by nuns and "venerated as miracle workers and protectors of the local community" through the 17th and 18th Centuries.
However, he said that when doubts were raised about the authenticity of the "holy relics", they became an embarrassment to churches and were hidden away.
Dr Koudounaris, who is from Los Angeles, said he found the skeletons on his travels around Europe.
He said he had had to gain access to some of the most "secretive religious establishments in the world" in order to take the photographs.
The Encountering Corpses exhibition, which features 70 photographs taken from two of Dr Koudounaris' books, is part of Manchester Metropolitan University's year-long Humanities in Public festival.
The show is the first time Dr Koudounaris has exhibited his work outside the US.
Alongside the photos of the skeletons, the art historian's pictures of charnel houses, buildings which are used to store human remains, have also gone on display.