Stepping Hill deaths: Nurse Victorino Chua rearrested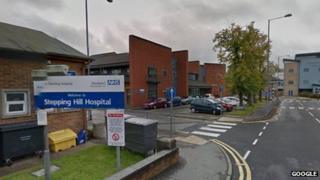 A male nurse has been arrested again in connection with the poisoning of patients at Stockport's Stepping Hill Hospital.
Victorino Chua, 48, was arrested on suspicion of three counts of murder, 18 counts of causing grievous bodily harm and poisoning offences at the hospital.
Police said the arrest, at about 06:30 GMT, related to the tampering of medical records and the contamination of intravenous medicines in 2011.
He remains in police custody.
Mr Chua has been arrested on suspicion of the murder of patients Tracey Arden, 44, Arnold Lancaster, 71, and Alfred Derek Weaver, 83, known to his family as Derek Weaver.
Saline drips
He is also being questioned over the poisoning of 18 others, five of whom have since died, some many months later.
Greater Manchester Police said those five deaths - of William Dickson (known as Bill), 82, Linda McDonagh, 60, John Beeley (known as Jack), 73, Beryl Hope, 70 and Mary Cartwright, 89 - were believed to be from natural causes.
Mr Chua was first arrested in January 2012.
Twenty-two people were believed to have been poisoned when products were contaminated at the hospital in June and July 2011.
Staff at the hospital called police after they discovered a batch of saline drips had been tampered with.
Greater Manchester Police said they were "investigating the contamination of various products with insulin between 1 June 2011 and 15 July 2011".