Khuram Shaikh: Killed aid worker 'tried to stop attack'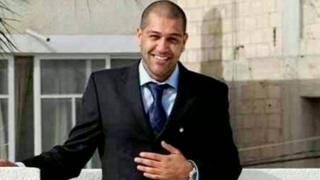 A British aid worker, shot and stabbed to death while on holiday in Sri Lanka, was attacked as he tried to stop a gang assaulting a man, a court heard.
Khuram Shaikh, a Red Cross worker from Rochdale, was killed at a hotel in Sri Lanka on Christmas Day in 2011.
Hotel manager Tharanga Peiris told the High Court in Colombo that she tried to stop Mr Shaikh, 32, from going to the man's aid.
Sampath Vidanapathirana, a town council leader, and five other men deny murder.
They are also deny raping a woman, who gave evidence at the High Court earlier.
Ms Peiris, manager of the Nature Resort in southern Sri Lanka, said she had clear sight of Lahiru Kelum, and Mr Vidanapathirana, leader of the Tangalle town council, during the attack on Mr Shaikh.
The court heard the pair were among a group of six or seven men who were at a party on Christmas Eve 2011.
They attacked a man as he came through the hotel gate, prompting Mr Shaikh to try to break up the scuffle.
Ms Peiris tried to stop him but could not hold him back.
'Covered in blood'
The gang started beating Mr Shaikh, with further beatings as he tried to escape to the swimming pool, the court heard.
Mr Shaikh was covered in blood and "there was blood everywhere".
Prompted by her chef she tried call police from reception but Mr Kelum turned a gun on her and said: "If you make a call I will kill you."
Ms Peiris fled with her staff along the beach to the next-door hotel to get help.
Returning a little later, she realised someone was still at large in her hotel and hid some of her staff in the laundry room.
Mr Shaikh, 32, had been working in Gaza fitting prosthetic limbs, but was holidaying in the resort of Tangalle.
The case resumes on Wednesday.