Easter appeal sees hospice receive 6,300 knitted chicks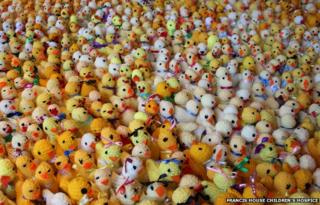 An appeal by a children's hospice for knitted chicks has seen it receive an "unexpected" flock of around 6,300.
The request for Easter chicks to sell was made by Manchester's Francis House Children's Hospice in national knitting magazines and online.
Hundreds of knitters sent chicks from as far afield as the Orkney Islands, Cornwall and Spain.
Chick knit co-ordinator Amy Swatkins said the response had "exceeded our expectations".
The hospice's annual "chick knit" started more than a decade ago, when a small band of local knitters began creating the birds to be sold with a chocolate egg in schools.
'Parcels of chicks'
In 2013, the charity made a magazine appeal for chicks to add to their brood, which led to them receiving around 4,000 knitted birds.
A spokeswoman for the hospice said the hope had been that they would match that number this year.
However, Ms Swatkins said that once the idea was shared online, "parcels of chicks were arriving daily in the post".
"As well as fantastic support from the North West, they've been sent in from all across the UK and we've even had chicks from Italy, France and Spain."
It is hoped the campaign will raise more than £6,000 for the charity.