Khuram Shaikh: Woman attacked for helping aid worker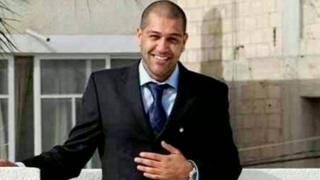 A woman was hit in the face with a broken bottle when she went to help a man who had been attacked by a gang at a resort in Sri Lanka, a court heard.
Khuram Shaikh, a Red Cross worker from Rochdale, was shot and stabbed to death at a hotel while on holiday in Sri Lanka on Christmas Day in 2011.
The High Court in Colombo heard a woman who tried to revive him was pursued and beaten as she jumped into a pool.
Sampath Vidanapathirana, a town council leader, and five other men deny murder.
They also deny raping a woman, who gave evidence at the High Court earlier.
Prasanna Samarasinghe, a Sri Lankan tourist staying at the beach hotel when the attack took place, told the court the main attacker was behaving "like an animal".
He said he saw the woman screaming and crying as she found Mr Shaikh lying unconscious.
As she tried to revive him another of the gang beat her with a burning log, he said.
He told the court he also saw the gang smashing up plates, lights and car windows and overturning tables and a motorised rickshaw.
Only by pleading with them did he avoid being beaten up by some of the men who were wielding poles, he said.
He testified to then seeing Sampath Vidanapathirana shouting "bring the white woman here" and seeing a group of them driving off in a van but he could not say exactly who.
Mr Samarasinghe said he had earlier seen one of the men holding an assault rifle in the hotel lobby.
Mr Shaikh, 32, had been working in Gaza fitting prosthetic limbs, but was holidaying in the resort of Tangalle.
He had been trying to break up a fight in the hotel bar when he was killed.
The case continues.