Rania Alayed murder accused 'saw wife with four heads'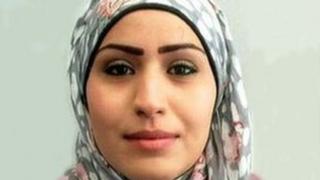 A man who claims he killed his wife in self-defence after an evil spirit entered her told a court she appeared to him with four heads.
Ahmed Al-Khatib, 35, also told Manchester Crown Court his wife suddenly grew long hair and long nails.
Mother-of-three Rania Alayed, 25, from Manchester, went missing last June.
Mr Al-Khatib admits causing her death but denies murder. His brother Muhaned, 38, denies murder but admits perverting the course of justice.
Mr Al-Khatib, of Gorton, Manchester said he thought Ms Alayed, who previously lived in Norton, Teesside, was trying to strangle him in the bedroom at his brother's flat in Salford.
The court was told the pair were going to discuss arrangements for looking after their three children after Ms Alayed had left him two months earlier.
They went into the bedroom while his brother looked after the children in the lounge.
But he said he saw an evil spirit enter his wife in the bedroom.
"I saw her having four heads; her hair was very long and she had very long, very sharp nails," he told the jury.
'Hearing voices'
Mr Al-Khatib said he felt his wife gripping his throat and as he pushed her back she caught her head on the back of a table and was knocked out.
He claimed voices in his head told him, "she is dead, she is dead" and he waited a few minutes before trying to resuscitate her.
When he failed to revive her, he put her body in a suitcase, he said.
On Wednesday Mr Al-Khatib told the court he had received medication after he started hearing voices and seeing spirits at the age of 16 and he had also been to an imam for counselling.
Mr Al-Khatib and his brother admit intending to pervert the course of justice by transporting and concealing the body of Ms Alayed, which has never been found.
A third brother, Hussain Al-Khatib, 34, of Knutsford Road, Gorton, denies the latter charge.
The trial continues.