Colin Lambert: Rochdale Council leader unseated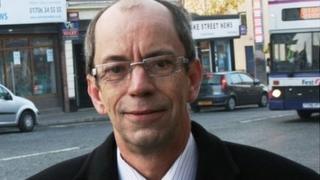 Rochdale Council is set to have a new leader after a coup in the ruling Labour group.
Colin Lambert was unseated by former leader Richard Farnell at a Labour group meeting on Monday evening.
It is expected Mr Farnell, who led the authority in the late 80's and early 90's will have his position ratified at a full council meeting on Wednesday.
Mr Lambert, who had led the council for four years, was not available for comment.
Leadership challenge
One of Mr Lambert's critics, Labour MP Simon Danczuk, tweeted: "Good news for Rochdale that Richard Farnell is to be new council leader, commiserations to outgoing Councillor Colin Lambert."
Mr Farnell, who represents Balderstone and Kirkholt ward, was a successful challenger to Mr Lambert, who represents West Heywood.
He said: "I'm Rochdale born and bred. I love my town and I want to make a contribution and help move the town forward and that's why they asked me to go back on the council to make that contribution."
Mr Lambert was leader when seven Liberal Democrat councillors quit leaving Labour as the largest single party in December 2010.
In May 2011 the party took full control by gaining an overall majority.
Labour has 48 councillors on Rochdale, the Conservatives 11 and the Liberal Democrats one.