Bolton Wanderers to open free school as part of £100m plan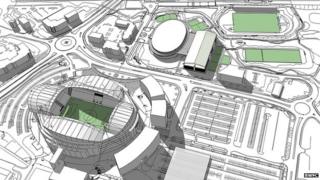 Bolton Wanderers are to open a free school as part of a £100m plan for the area around their stadium.
The school for 400 students aged 16 to 19 will be built alongside the Reebok Stadium and is expected to be completed in 2016.
A 200-place version of the school will open in the stadium in September.
The council-approved plan will also see Bolton Arena get a new sports hall and a residential, office and retail development built near the stadium.
A spokesman for Bolton Wanderers said the school's curriculum would be "based around sport, business studies and health and social care with GCSE maths and English options also available".
The club announced the school would be led by principal Toni Carr.
She said she was "delighted to be part of such an exciting, challenging and rewarding venture that will inspire the young people and local community".
The pan for the Middlebrook area will also see the arena's outside pitches and other facilities upgraded, the stadium's West Stand main entrance and administration areas extended and more car parking added to the site.