Parklife Festival victim left critically ill by 'brutal assault'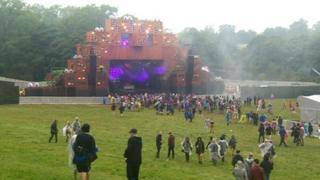 A man remains critically ill in hospital after what police have called a "brutal assault" at the Parklife Weekender Festival in Manchester.
The 26-year-old victim was knocked unconscious in front of the main stage at about 21:15 BST on Saturday.
Police are appealing for two people who helped the man, believed to be off-duty medical personnel, to contact them.
The victim is being treated at Salford Royal Hospital. About 60,000 people attended the two-day festival.
Greater Manchester Police said the man who carried out the attack was approximately 25 years old, 6ft (1.8m) tall, with short, curly, black hair shaved at the sides.
Stabbing arrests
Det Insp Mark Tootill said: "We believe that the victim may have been treated soon after the attack by two off-duty medical staff, who administered CPR before he was taken to the medical tent by security.
"We are extremely keen to speak to those two people, or anyone else who believe they may have seen the attack take place."
The organisers of the Parklife have urged festival-goers to help police identify the attacker.
"We regret that an isolated incident has taken place at this year's event, however medics were on the scene within minutes of it taking place," their statement added.
In a separate incident Greater Manchester Police said they made two arrests after two men were stabbed during a fight at the festival.
One victim was taken to the Manchester Royal Infirmary with serious but non-life threatening injuries and remains in a stable condition at the hospital, police said.
The other victim was released after being treated at the on-site medical facility.