Nine-year-old girl sexually assaulted in Stockport alley while rollerskating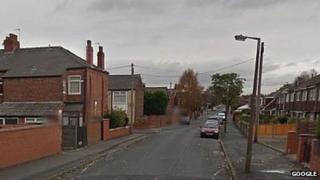 A nine-year-old girl has been subjected to a "truly loathsome" sexual assault in a Stockport alleyway.
Police said the girl had been roller skating when a man approached her off Harcourt Street in Reddish at about 16:00 BST on Wednesday.
A spokesman said the man was "white, of slim build, about 5ft 10in with short hair" and had been wearing a red top.
Det Con Malcolm Such said it was "a truly sickening and appalling act committed against such a young girl".
He said the man had "no conscience or scruples".
"To target anyone and sexually assault them is a cowardly and malicious thing to do, but to attack a girl as young as nine is truly loathsome.
"Understandably, the young girl's parents are outraged and want to see their daughter's attacker caught and put behind bars."
He said police wanted to "warn our community that this man may still be out there".
"Parents will be particularly worried and anxious and our aim is not to cause any further distress, but inform [them about] what has happened, so they and their children can take extra precautions."