Kieran Crump Raiswell: Father critical of police response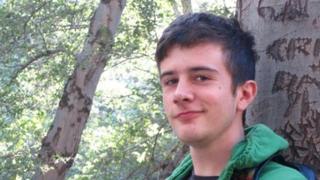 The father of a man killed in a random attack says more should have been done by police to prevent his murder.
Kieran Crump Raiswell, 18, was walking in Whalley Range, Manchester, last year when he was stabbed by Imran Hussain.
The police watchdog said a Nottinghamshire Police officer failed to properly investigate an assault Hussain had committed days earlier.
Roland Crump, Kieran's father, said police had "time to react" before his son died.
In the first incident, the victim was walking in the Derby Road area of Nottingham when he was punched by Hussain, 27, of Bracknell, Berkshire, in an unprovoked attack.
Mr Crump said: "We believe that if action had been taken, Imran Hussain would have been, or may very well have been dissuaded from following up the assault in Nottingham with the attack on Kieran in Manchester".
He added the victim of the assault provided a description of Hussain and his registration plate number, yet the force did not track him down.
'Random violence'
Twelve days after the Nottingham attack, the teenager was stabbed repeatedly in the chest without warning by Hussain. He was jailed for life for the attack.
The same vehicle seen after the first incident was used to drive away from the murder scene in Manchester.
Sarah Green, from the Independent Police Complaints Commission (IPCC), said: "We will sadly never know whether a more prompt investigation might have deterred Imran Hussain from going on to commit the grave crime of murder.
"But it is clear that the officer did not investigate the initial assault quickly and thoroughly enough, despite being provided with clear lines of inquiry. "
Mr Crump added: "Perhaps it wasn't taken seriously because it was the lowest form of assault, but that sort of random violence in the middle of the day is not normal."
The officer was found guilty of misconduct and will receive extra support and training. Nottinghamshire Police said it had accepted the IPCC recommendations.