Passport delay leaves surrogate babies stranded in India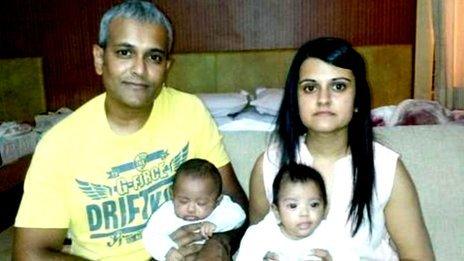 The government has been urged to intervene in the case of a Greater Manchester couple stranded in India due to Passport Office delays.
Kiran and Bina Salvi, from Bolton, travelled out three months ago to collect their surrogate twins.
Labour MP Julie Hilling called on the Home Secretary Theresa May to intervene during a House of Commons debate.
The Home Office said it was a complex surrogacy application with a lot of checks required.
The children have been awarded UK citizenship, but processing delays mean the family cannot return home.
Bolton West MP Ms Hilling raised the couple's problem in the House of Commons saying: "They are desperate, running out of money and stuck in a hot hotel room in India."
They travelled to India to collect their twins Jai and Leela, who were both born prematurely to a surrogate mother, but have not been able to return home.
"When we ring the Passport Office helpline we get a request for a reference but for overseas applications there is no reference number," said Mr Salvi.
"They are adamant there is a reference number and there isn't. There's a toing and froing with them."
Mr Salvi said the couple faced the same problem when they try to get help online.
He added: "It is almost like nobody knows the process. We know more about the process than they do."
Mr Salvi said the children received UK citizenship within a week of application, adding, "What I don't understand is why the duplication of effort... why are the same checks repeated by the Passport Authority?"
"We've been waiting 12 years to have a family I don't regret my two children - I just want to be able to get home and enjoy them in Britain where we live and were born," he said.
A Home Office spokesman said it had contacted the family by phone and email and was waiting for further information to be provided.
"We will not issue a passport until all checks have been satisfactorily completed," he added.
Related Internet Links
The BBC is not responsible for the content of external sites.