WW1 VC soldiers given Wigan and Leigh roads honour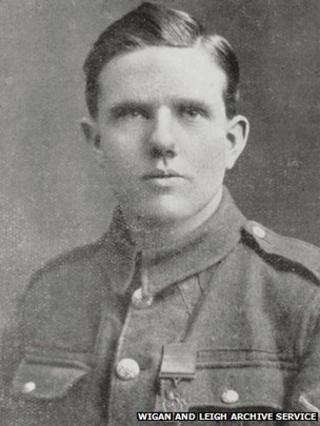 Four World War One soldiers who were awarded the Victoria Cross are to be honoured in their home borough.
Wigan's Thomas Woodcock; Abram's John Grimshaw, William Keneally from Ashton-in-Makerfield and Leigh's Alfred Wilkinson were given the highest military honour for their war conduct.
Wigan Council said over the next four years, four streets will be named after the "brave local men".
The first to be named will be Wilkinson Park Drive in Bickershaw.
Pte Wilkinson was awarded his VC for crossing no man's land under heavy fire to deliver a message during the Battle of the Selle in October 1918.
Four runners had been already been killed when the Leigh soldier, who later rose to the rank of lieutenant, volunteered to undertake the mission.
After the war, he returned to Leigh, where he married and opened a sweet shop.
Later he worked at Bickershaw Colliery but died from gas poisoning in 1940.
The road named in his honour is located on the former site of the colliery.
The council said the location of the other three roads had yet to be decided.