Rochdale rape claim woman, 90, 'suffered sexually-motivated attack'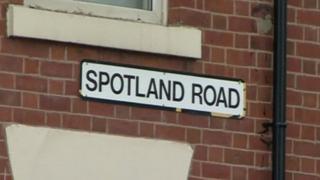 Police investigating a 90-year-old woman's allegation of rape have said they believe she was the victim of a "sexually-motivated attack".
The woman reported an attacker had covered her mouth and dragged her backwards in Spotland Road, Rochdale, before raping her on Tuesday morning.
Greater Manchester Police said there was "no forensic evidence" of rape but officers were investigating her claim.
Supt Alistair Mallen said officers "can't rule out" that she was raped.
"We know that she was pulled from behind with a hand over her mouth, we know she blacked out and we know from her state of dress when she came round that it was a sexually-motivated attack," he said.
"We have got to establish exactly what has happened to her, and we can't rule out rape."
He said the woman had "stated she had been raped and she gave the same account when she was video interviewed".
He added: "As people would expect, we carried out forensic tests and the results now show that there is no forensic evidence of a rape taking place.
"However, we are continuing to investigate the full circumstances of what happened to her.
"Something has clearly happened to this lady so we would like to hear from anyone who saw anything."