Jimmy Savile abused girl, 7, in psychiatric ward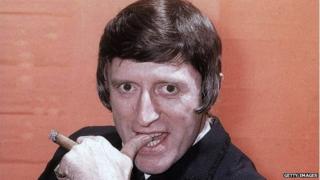 Jimmy Savile abused a seven-year-old girl at a Greater Manchester psychiatric unit and warned her she would be locked in if she told anyone.
The victim also alleged Savile sexually assaulted her when she was a patient at another hospital in the area.
A report for Greater Manchester West Mental Health NHS Foundation Trust said Savile took the child to the Prestwich Hospital site, where he abused her.
It is claimed he assaulted the same girl at Booth Hall Children's Hospital.
The victim, referred to as Ms C, said the abuse took place in the 1960s.
She claimed she was taken to the Prestwich Hospital by Savile and an "unidentified male" and described being abused on a ward with no staff but where naked male patients were present.
Ms C alleged Savile threatened her that if she revealed the abuse she would be brought back and locked in the room with the men.
'Documentary evidence'
The trust's investigation was based on a statement Ms C gave to the Metropolitan Police.
Its report formed part of a nationwide review, conducted by Kate Lampard QC, into Savile's abuse at NHS facilities.
The study stated: "Although there are no witnesses who can verify or refute the account of Ms C, it is the considered view of the investigation team that the alleged incidents are likely to have occurred."
It found a correlation between her description of the site and environment with available documents and witness testimony from two former staff members.
"There is nothing in Ms C's statements that would cause us to question the veracity of her account of what happened," the report concluded.
'Uncle Jimmy'
The Central Manchester University Hospitals NHS Trust investigated the allegations at the former Booth Hall Hospital Manchester (now closed), and said the claims concerned a time when the girl was a patient for a routine operation.
Ms C said Savile, who she knew as "Uncle Jimmy", put his hand, "under the bed clothes and sexually assaulted" her.
It is also alleged she was abused by her father.
Savile was not a national celebrity at the time the allegations took place, although he was well known locally as a wrestler who lived in Salford.
"She did not make the connection between 'Uncle Jimmy' and Jimmy Savile the celebrity until some years later," said the hospital's report.
The trust also investigated "sketchy" allegations by another ex-patient of a hospital in Manchester.
Its report said it was not possible "to produce conclusive evidence" of the events described by both alleged victims.
"What is clear is that both alleged victims raise issues which were well worthy of investigation," it added.
A trust statement said it had a duty to investigate the allegations but the "passage of time has made it difficult to reach a definitive conclusion".