Wigan plaque dedication for submariner Ian Molyneux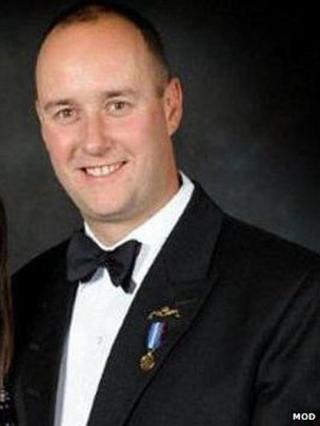 A plaque in honour of a hero submariner has been dedicated during a ceremony at Wigan town centre's war memorial later.
Lt Cdr Ian Molyneux was shot dead as he tried to disarm fellow crew member Able Seaman Ryan Donovan, 22, onboard HMS Astute in Southampton in April 2011.
Donovan, a junior sailor, was jailed for life for killing the father-of-four from Wigan.
An inquest heard Donovan had been on a two-day drinking binge before the attack on the submarine.
Lt Cdr Molyneux, who was 36-years-old, was awarded the George Medal posthumously.
'Outstanding officer'
The plaque dedication took place at 12:00 BST and was attended by his family, naval representatives and senior council officials - a day before Armed Forces Day commemorations.
Councillor David Molyneux, deputy leader of Wigan Council, said: "Lt Cdr Molyneux's tragic death deeply shocked and saddened the people of Wigan.
"He was clearly an outstanding naval officer, a loving and committed husband and father, and an active member of his local community.
"It is right Ian's name is included on the cenotaph in his home town in recognition of his bravery and sacrifice."