Middlewood Locks housing plan gets £575m foreign investment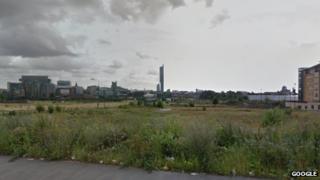 A UK property developer has said it has secured funding from companies in Hong Kong and Singapore to build up to 2,000 new homes in central Salford.
The Scarborough Group International said the scheme was worth £575m.
The development would be at Middlewood Locks, an area of open land close to Salford Cathedral.
Ian Stewart, Salford's mayor, welcomed the investment, which he said would provide "much-needed new homes, jobs and prosperity".
Middlewood Locks is a 23.6 acre site at the western gateway of Manchester, centred around the former Manchester Bolton and Bury Canal.
The Scarborough Group said the redevelopment would include up to 2,000 new homes, along with offices, shops, restaurants, a convenience store, nursery and gym.
The site already has an outline planning consent for 2.6 million sq ft of residential-led, mixed-use development, the developer said.
Work is hoped to start on the site in the first half of 2015, the statement added.
In a separate scheme, the company will spend £30m building more apartments at Milliners Wharf, in New Islington, Manchester.