Stirling Prize: Manchester School of Art on RIBA shortlist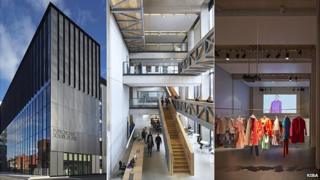 The Manchester School of Art has been shortlisted for a prestigious architecture award.
The Royal Institute of British Architects' (Riba) Stirling Prize is awarded to the best new building.
Judges said the extension to the Manchester Metropolitan University site felt more like entering an "art gallery rather than a university department".
Other shortlisted sites include Liverpool's rebuilt Everyman Theatre and the Library of Birmingham.
The school marked its 175th anniversary last year by opening a new £23m building and a refurbishment of the 1960s Chatham Tower.
The panel, praising architects Feilden Clegg Bradley Studios, said: "This is a building where the exploration of design and creativity will flourish."
Prof David Crow, Dean of Manchester School of Art, said they were "delighted with the news".
He said: "The starting point for this project was to design a 21st Century art school.
"The university encouraged the school to take a bold approach which we think will be a reference point for future art schools.
"We wanted to challenge convention and create a place that would encourage cross disciplinary working, team projects and a more open and social approach to learning."
Councillor Pat Karney, Manchester City Council's city centre spokesperson, said: "It's a fantastic achievement for a building's design to receive an accolade as esteemed as this.
"Not only is the new art school an asset to the university and the students who have the pleasure of studying there, but also to the city centre, where it will add to the already vibrant character of Oxford Road."
Former graduates of the Manchester School of Art include painter L.S. Lowry, actor Julie Walters, comedian Steve Coogan and graphic designer Peter Saville.
The overall winner, picked by a team of judges, will be announced on 16 October.